How to reduce unmet load hours?
When talking about unmet load hours, we first need to define what threshold of unmet load hours is still acceptable. A common number that 300 unmet load hours is still ok, everything above it usually needs some investigations.
Report with unmet load hours:

1) Which zones are affected?
It can be very useful to determine which zones are affected and are creating the most unmet load hours. There are two reports that you can use to find an answer to this question.
Temperature Profile Report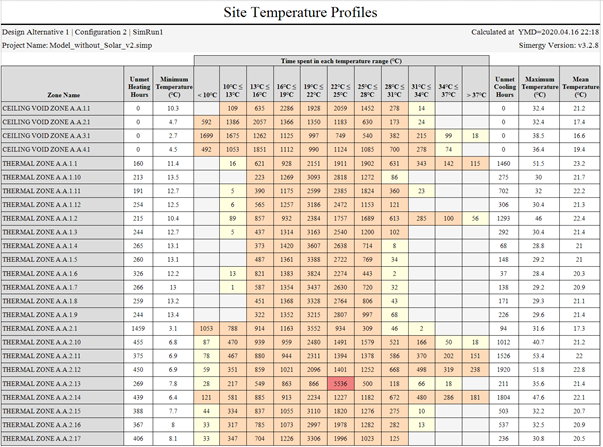 In this report you can find out which zones are most affected and if the problem is on the heating, cooling or both sides.
Setpoint Not Met Report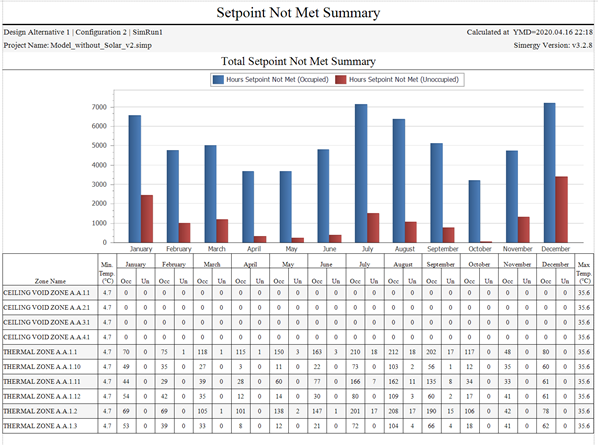 Here you can see how the setpoints are not met over the year, what kind (heating and/or cooling) and which zones may be most affected.
You should see in both if you have unmet load hours all over the place or just for specific floors or zones. If they are affecting most of the zones, we should look at the system level next, if only a few are causing the high unmet load hours, then we can focus just on that part of the building.
2) Are systems well defined and operating?
The best way to understand if the systems can meet the setpoints is to look at the water systems unmet demand output variables. Those are included in most output request sets and can be easily drawn in the results visualization workspace.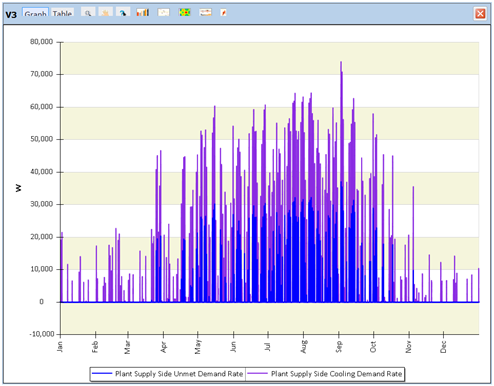 To get a sense of magnitude it is best to graph those with the actual demand for that loop and you can immediately see if the magnitude of the unmet demand is at a level where it needs investigation. In the example above the unmet demand is almost at the same level as the demand so this requires further investigation.
If the system demand cannot be met, we need to look into capacities of the cooling or heating equipment in that loop and the sizing properties.
Another possibility is that even if the setpoints are met, that the setpoints are not appropriately defined, so you need to review the setpoints of your water and air loops.
Model Overview report
3) Energy balance reasonable?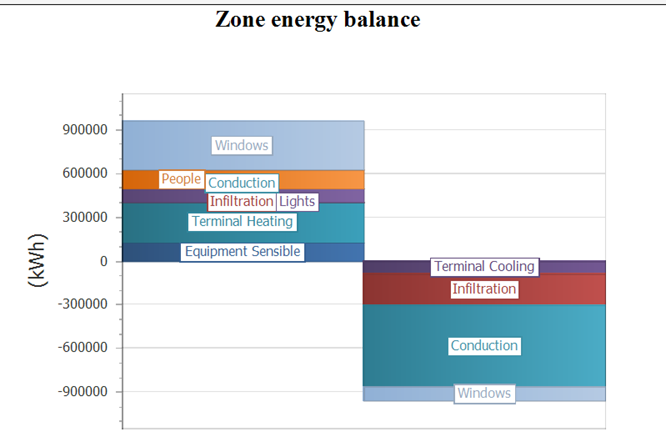 4) U-Value overview
Model Assessment
Resolving unmet load hours guide
· Setpoints & Profiles (thermostat and HVAC schedule, internal loads schedules, outdoor air ventilation schedules)
· Controllers Flow and Temperature (no unwanted resetting)
· Primary and secondary heating equipment is turned on
·
· Undersizing
· Weather data design day data mismatch
· Sizing versus Simulation
· SAT
· Plant Sizing
· High internal gains
References:
http://www.iesve.com/support/faq/pdf/unmet-load-hours.pdf
https://comnet.org/23-unmet-load-hours
http://energy-models.com/blog/6-tips-reducing-unmet-load-hours
https://unmethours.com/question/359/what-are-your-techniques-for-reducing-unmet-hours/
https://unmethours.com/question/525/tolerance-for-unmet-load-hours-for-leed/
http://www.trane.com/CPS/Uploads/UserFiles/CDS%20files/TRACE/TRACE700_ResolveUnmetLoadHrs.pdf
https://www.eng-tips.com/viewthread.cfm?qid=268022
http://energy-models.com/forum/unmet-load-hours-1